Today was a lazy day. Didn't do much at all. My son and DIL stopped by. Watched football today. Saturday my grandson was over and we went to the Harvest hoedown. They have a few craft seller, food, games for the kids, music, build your own scarecrow and purple cow patty bingo. Yep, cows painted purple. The tickets for that was $5.00 each and all the money went to the food bank. They had 3 prizes one of $250.00 one $500.00 and the big prize was $1000.00. They painted these squares on the ground and let three cows out and if the cow pooped on your block you win. Yep i never heard of it till then. It took a while for the cow's to do anything. So everyone just stood around waiting and watching. It was really funny. They missed my block by 1.
That's one of the purple cows. LOL You can see the squares on the ground.
Here's a picture of my grandson, hubby and daughter in law making the scarecrow. My grandson is in the red shirt, hubby and daughter in law in the white shirt.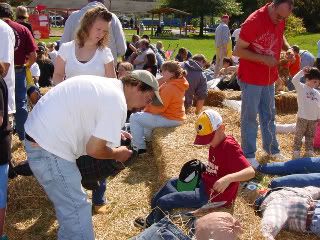 Here's a picture of my grandson and the scarecrow he made on the scooters.
My grandson Logan and my hubby John fixed the scarecrow on the scooter and then sat it at the end of the driveway. People were riding by laughing. so that's what i did on Saturday. So the weekend wasn't to bad. Hope everyone had a wonderful weekend.
hugs pam