Wow has the weather changed. Alot cooler out only in the 50's and they are calling for frost tonight. I don't like it. I can't wait for spring. I'm not a cold and snow person. LOL
Finally downloaded a picture of my granddaughter:
And here's one with her acting goofy"
She is so sweet when she's at my house but as soon as her mom comes to pick her up she turns into a different kid. She's 4 and is in pre-K and really likes it.
Also snapped a picture of the dog and kitten. The dog is 11 and the kitten is 6 months. Usually the kitten is driving the dog nuts. And believe me i don't see this much.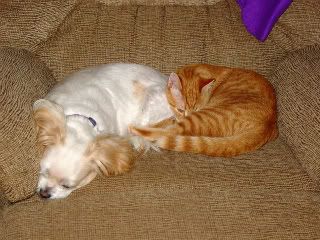 Hope you enjoyed looking at my pics. Hope everyone has a wonderful week.
Hugs Pam